Monetary Donations
The success of the Upton Fire and EMS Association depends on money raised through fundraising by its members and the generous donations from members of the community. If you would like to make a monetary donation to our Association, please click on the Paypal donate button to the left.
For those who are unable to contribute financially but would still like to help the Association, we welcome your assistance! Please feel free to participate in any of the opportunities below:
Can and Bottle Drive
Do you have returnable cans and bottles taking up space in your home, basement, or garage? Why not donate them to the Upton Fire and EMS Association and help your community while reclaiming that area of your home? The Upton Fire and EMS Association gladly accepts any and all cans or bottles which are subject to a deposit. The proceeds from these donations are designated for a special fund to help purchase specialized rescue equipment (including the Jaws of Life), so your contribution is keeping your family and neighbors safe!
A clearly marked dumpster has been placed at the entrance of the Upton Fire and EMS Department parking lot and is available 24 hours a day for anyone wishing to drop off a single can or a thousand. We thank you for your donations which help us help you!
Become a Member!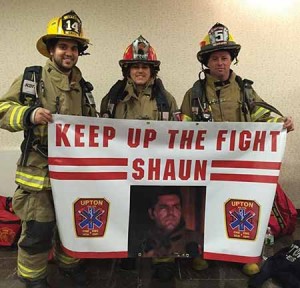 By far one of the best ways someone can help our organization is by joining the department!
Have you ever wondered what it would be like to be a firefighter or EMT?
Do you have a strong desire to give back to your community while achieving the gratifying reward of self-fulfillment?
Are you an Upton resident who is a member of another department and looking to get involved locally?
If you answered yes to any one of these questions, we want to hear from you! Learn what it takes to join the ranks!
Join the Association!
Interested in giving back to your community but don't wish to be directly involved in firefighting/emergency services? We still have a spot for you! Fill out our online application form to learn more about joining the Upton Fire and EMS Association!